Rooms & Prices
Behrouzi Hotel in Qazvin Rooms Rates
Private Twin Rooms(Shared Bathrooms) - €55(Price) per night
Private Double Rooms(Shared Bathrooms) - €55(Price) per night
Private Double Rooms(Private Bathrooms) - €65(Price) per night
Private Twin Rooms(Private Bathrooms) - €65(Price) per night
Private 3-bed Rooms(Private Bathrooms) - €90(Price) per night
Private 4-bed Rooms(Shared Bathrooms) - €95(Price) per night
Private 4-bed Rooms(Private Bathrooms) - €105(Price) per night
Note: The rooms rates above include free breakfast and Wi-Fi
- Behrouzi Hotel in Qazvin Reservation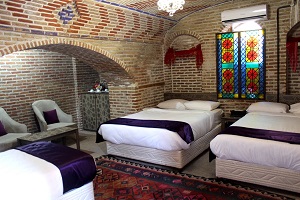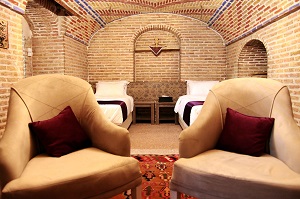 12/31/2017 10:01:00 AM
---
1 Comment(s)
Average Rating:
Comments and Reviews
A-Izzeddin on 11/5/2017
Hi - do you have a double room with private bathroom available for two nights (8-10 November)? Regards Julianne
---
Admin:
Thank You
Dear Julianne
Comment Code: 3949
Salam!
Thank you very much for contacting us.
Please make a reservation on the website and we will check the availability and get back to you.
In addition, you can find more information about the prices on our website.

Kind Regards